Activewear brands in Pakistan: Which ones are popular?
Posted by EJAZ SHAH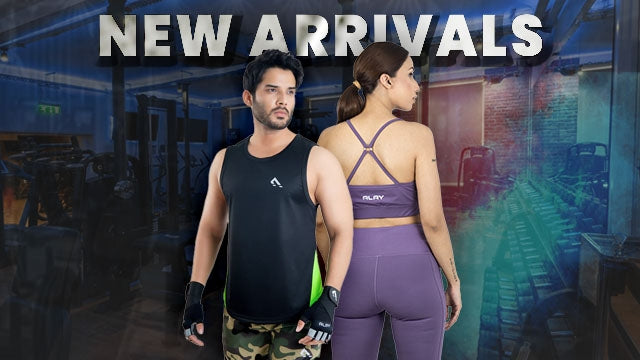 No matter what you call them—activewear, athletic wear, or sports apparel—they all mean the same thing: clothing specially designed for sports or other physical activities. For instance, tracksuits, shorts, T-shirts, and polo shirts are some common examples.
With the increase in fitness awareness, especially during COVID-19, the demand for activewear has increased globally, including in Pakistan. This has led to the emergence of various activewear brands in Pakistan. These brands offer a range of sportswear clothing for different physical or fitness activities that is both comfortable and functional.
So in this blog, I am going to discuss a list of 5 popular activewear brands in Pakistan that you can look at for your sports clothing. Let's begin.
Popular Activewear Brands In Pakistan
Some of the popular activewear brands are:
Teefit Fashion
Teefit Fashion is a leading and popular gym wear brand in Pakistan. It provides a wide range of gym wear and athleisure wear clothing for both men and women. They offer a variety of clothing items, such as tracksuits, pants, compression t-shirts, regular muscle fit t-shirts, and much more. Moreover, their clothing has a dri-fit feature with simple and minimalistic designs. Also, every year they update their collection with new and different clothing items for winters and summers.
Alay
Alay is another favorite Pakistani brand that is known for using high-quality materials, trendy designs, and long-lasting and comfortable activewear clothing at affordable prices. The brand focuses both on men's and women's clothing that includes sports bras, tracksuits, tops, bottoms, shorts, and T-shirts. Also, Alay is dedicated to ethical and sustainable business practices, which has helped the brand build a strong customer base.
Tuhura Athletics
Tuhura Athletics is the place to get sportswear in Pakistan for women who want to exercise in style. Compression leggings, tracksuits, and sports bras are just a few of the many types of sportswear they have for women. Moreover, it is the first all-female sportswear brand in Pakistan, and it provides these women with an opportunity to stand out and exercise in elegance.
Nomad Apparel
Nomad Apparel also holds its place in the list of best activewear brands in Pakistan. The material they use for their activewear and gym wear is of high quality. Despite having a small selection for both men and women, the brand is growing and has a bright future. Their clothing is long-lasting, easy to pull off, and has both simple and stylish designs. Moreover, their gym clothing is also perfect for casual wear and strenuous gym sessions.
IronGear Pakistan
The majority of you may not be familiar with this gymwear company from Pakistan. But this brand is on our list for a reason. In Pakistan, IronGear offers a full line of gymwear that enables both men and women to work out in style and without restriction. They have joggers, trousers, tracksuits, and accessories for both men and women—pretty much everything.
I am not through yet, as next I am going to explain some important factors that have played a major role in the popularity of these activewear brands.
Factors Contributing to The Popularity of Activewear Brands In Pakistan
Some of the factors contributing to the popularity of Pakistani activewear brands include:
Quality of materials
The first and main factor contributing to their popularity is the use of premium and quality materials when manufacturing their clothing products. Consumers in Pakistan are becoming more conscious of certain quality factors that the product should contain, like moisture-wicking and breathable materials. So they prefer to purchase from that brand because it has all these features. Also, this will help the brand gain a good reputation and become more popular among consumers.
Design and style
The second factor that contributes to the brand's popularity is the design and style of the clothing. People now prefer to have activewear that is not only functional but also stylish, which enhances their physical appearance. So those brands that have a collection of trendy, stylish, and different bold colors and patterns of clothing are more likely to be purchased by consumers.
Affordability
It is a fact that consumers in Pakistan look for fashionable clothing that is also affordable. Some individuals might be willing to pay more for a brand, but affordability is still a main concern. So those brands that offer reasonably priced and quality products are likely to attract individuals with limited budgets or financial constraints and gain popularity in the market.
Brand reputation and marketing
We cannot deny the importance of brand reputation and effective marketing. Consumers globally and in Pakistan as well are likely to trust a brand that has received several positive word-of-mouth recommendations and has earned a good reputation for quality and reliability. In terms of effective marketing, it should have a good social media presence, testimonials, and brand visibility that attract customers.
Celebrity endorsements
Activewear brands in Pakistan frequently use celebrity endorsements as a marketing strategy. Activewear brands choose celebrities, such as actors and athletes, who support healthy lifestyles and fitness. Consumers in Pakistan are more likely to buy athletic products recommended by their favorite celebrities, which may help the brand become more well-known.
Don't stop here; there's more to discuss. Next, I am going to discuss some challenges faced by Pakistani activewear brands that they have to overcome to be successful in the market.
Challenges Faced By Activewear Brands In Pakistan
Despite a positive and promising future, there are several challenges that activewear brands have to face in the industry. These challenges are:
Competition from established international brands
In Pakistan's activewear industry, well-known international companies like Nike, Adidas, and Reebok are already well-established. It is difficult for new and local brands to compete with these brands because of their loyal consumer base and reputation for quality and reliability.
Limited availability of raw materials
Another difficulty for Pakistani activewear brands is the lack of access to high-quality raw materials. Many of the basic materials needed to make activewear, including specialist synthetic textiles, are difficult to find in Pakistan and can be expensive and time-consuming to import.
High production costs
The high cost of production is another issue for Pakistani sportswear brands. Brands may find it challenging to produce their products at a price that is competitive due to the high cost of materials, labor, and production equipment.
Limited distribution channels
Another issue for Pakistani sportswear businesses is the lack of sufficient distribution channels. Many brands have limited access to distribution channels like retail stores, e-commerce platforms, and wholesalers, which can limit their market reach and have an impact on their sales. Additionally, it can further restrict brand exposure and expansion.
Conclusion
The future of Pakistan's apparel market looks promising. People are becoming more aware of the importance of health and fitness, which will increase demand in the future. Also, the gradual growth of the e-commerce industry will make it easier for the brands to reach a larger audience. But for that, they first need to overcome challenges such as international competition, limited resources, high production costs, and limited distribution channels. Overall, brands will cater to evolving consumer needs and preferences, which will make them successful in the long run.
Collection 2019
Sale 70% Off
Title for image